You can reverse aging with a daily skin care routine that staves off fine lines, creases, wrinkles and sagging skin. You don't need expensive products. In fact, all you need are a few DIY skin
You can reverse aging with a daily skin care routine that staves off fine lines, creases, wrinkles and sagging skin. You don't need expensive products. In fact, all you need are a few DIY skin care tips to amp up your everyday routine. These tips have been shared by women of all ages to help reverse aging – before it starts!
You see, once the premature signs of skin aging begin to show it can be difficult to stop the process. That's why so many men and women follow this anti-aging skincare routine. It can be used as early as your 20's and also includes the best anti-aging skin care products for you 30's.
Anti Ageing Skin Care Routine to Reverse the Aging Process
You can reverse aging as early as your 20's. Just use this anti-aging skin care routine through every decade:
20's. When you are young, there are a variety of problems that can affect your youthful skin and cause the premature signs of aging. The #1 cause of skin damage known to contribute to the development of fine lines and wrinkles is actually the sun. That's right! UVA and UVB rays from the sun are the leading cause of the preventable signs of skin aging. That's why the U.S. Food & Drug Administration recently changed their recommendation to include only broad-spectrum sunscreens. Able to protect your skin from both UVA and UVB rays even on cloudy days, applying an SPF 15+ to your face and body is highly recommended to reverse the aging process of the skin.1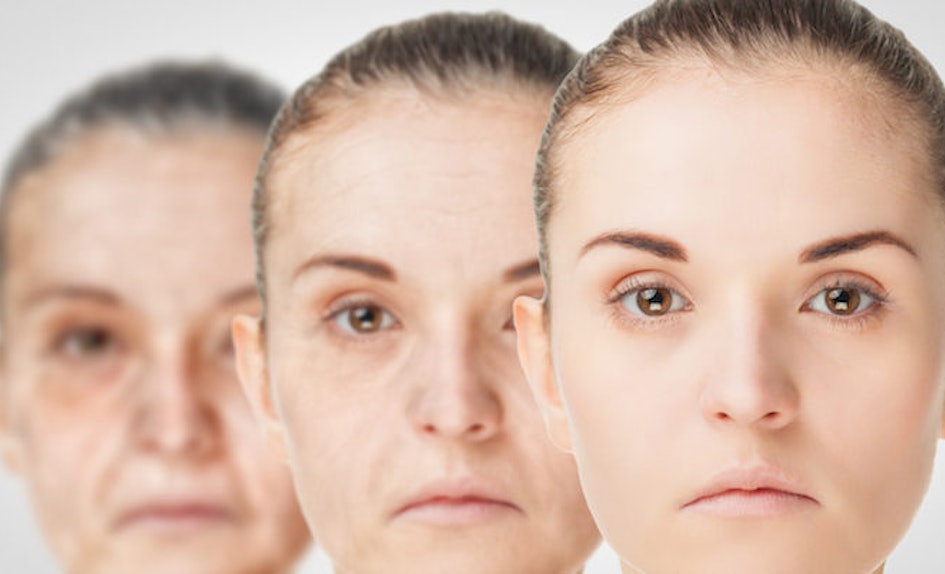 30's. During this decade most people begin to notice wrinkles. They may start to show as creasing, "crow's feet" or the beginning of character lines. Over time, these lines can deepen ultimately making you look older. The best way to stop the formation of deep-seated wrinkles it to encourage skin cell turnover. In doing this, you may be able to reverse aging by stimulating new skin cells. The easiest way to do this is with a DIY exfoliant. Try this simple recipe for a gentle anti-aging sugar scrub.
Ingredients:
Organic sugar (75%)
Baking soda (25%)
Carrier oil to fill the jar with room to "breathe" (olive, almond, jojoba seed)
5-10 drops essential oil of your choice (lavender, sandalwood, ylang-ylang)
Directions:
In a medium-sized canning jar combine all of the dry ingredients leaving room for the oil, along with additional space for blending. Then, seal the jar and shake it gently to combine all of the ingredients. Once blended you can add in the oils and gently shake the jar again to fully combine.
 40's. At this point in your life, the overall aging process can start to show in other areas. Besides deeper wrinkles, dark spots can also appear on the face and body leaving you with older-looking skin than you'd like to have. Never fear! The additional power of a potent retinol is known to reverse aging. Available in as retinol Vitamin A, serums can be applied to target areas like fine lines around the mouth and crows feet. However, there are a variety of retinol products available to reverse aging including light-weight moisturizers, correction creams, deep wrinkle treatments, anti-wrinkle polish and more. You may also want to support anti-aging from the inside out by adding retinol foods to your diet as it can be stored inside fat cells for visible anti-aging effects. Here are the foods with the largest amount of Vitamin A as retinol: red palm kernel oil, carrots, sweet potatoes, cantaloupe, winter squash, spinach, and kale. So eat up! After all, the best anti aging skin care products for 30's, 40's and 50's are right in your kitchen.
 50's +. Over the age of 50, the signs of aging commonly show throughout the body. For this reason, it is very important to talk to your doctor about adding more anti-aging foods to your menu. During this decade, hydraulic acid can be added into your skin care routine to deeply hydrate your skin and plump skin cells. Other hydraulic acid products can also be used to smooth out skin tone, even out texture and leave you with a dewier youthful appearance.
What Are Best Anti-Aging Skin Care Products for 30's?
Anti-aging strategies can start to work as early as your 30's if you start adding them to your skin care routine in your 20's. Just remember that while you may not think about how to reverse aging early in life, it's ok! Simply aim to implement these simple skin care strategies during every decade for the most youthful and radiant skin.
It's important to love the skin you're in. After all, it does so much for you: detoxification, protection from pollution and body temperature regulation to name just a few. That's why taking great care of your skin should start in your 20's and continue with the best anti aging skin care products for 30's, 40's and 50's. Develop an aging skin care routine you love with the best products and make it a way to pamper yourself throughout every decade.
References:
U.S. Food & Drug Administration. Sunscreen: How to Help Protect Your Skin from the Sun.